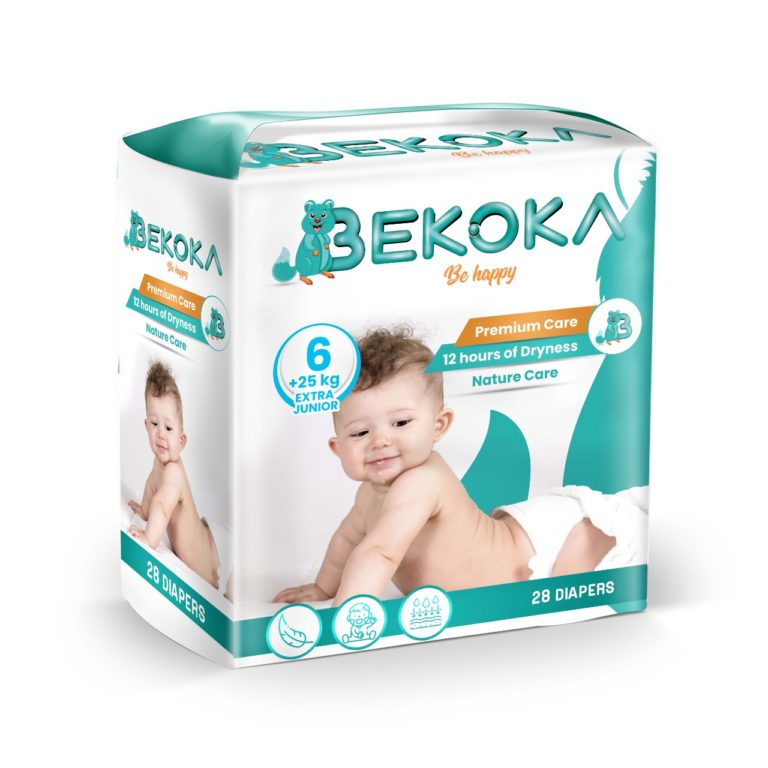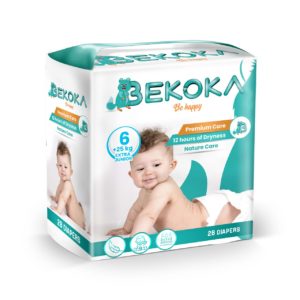 BEKOKA aims to offer the best help for you and your baby. BEKOKA provides the comfort and free movement that your baby needs for healthy development. In addition, it contains super absorbing layers helping keep your baby's skin clean and healthy. A sleepy natural diaper has a very soft structure and offers your baby 12 hours of dryness and comfort. The compressed inner layer absorbs wetness overnight keeping your baby's skin dry until morning and preventing leakage from the back.
| | |
| --- | --- |
| Diaper Weight  | (±2) 34 g |
| Total Length | (±5) 56 cm |
| Length of diaper center area | (±5) 44 cm |
| Absorption quantity | (±10) 600 mm |
BEKOKA diapers are recommended by doctors and specialists for the following reasons:
It is Super absorbing as it contains ultra-absorbing polymer (SAP) mixed with pure cellulose pulp.

It has flexible back wings that allow babies to move freely.

Side tapes (Velcro Look-hoop tape) can be opened and resealed several times. 

The inner surface consists of soft-textured natural materials and is absorbent to liquids in large quantities.

The exterior allows air to enter inside the diaper.

Strengthening side barriers prevent leakage.
BEKOKA sleepy natural diaper is fast absorbing, and suitable for baby-sensitive skin.