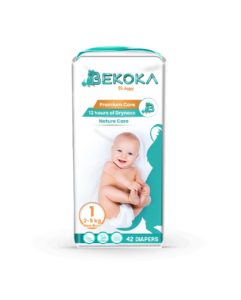 BEKOKA super soft newborn diapers are the best for your baby's skin. Ensure your little one's comfort without leaking liquids and droppings. Bekoka diapers are designed in special labs. These diapers have a special super absorbing layer and keep them far away to protect your child's sensitive skin, also distributing wetness evenly for reliable dryness. Bekoka Baby Diapers have a moisture indicator that turns yellow to blue when they come into contact with fluids to help parents know when it might be time to change. No wonder Bekoka diapers are the # 1 choice for mothers.
| | |
| --- | --- |
| Weight  | (±2) 16gm |
| Total Length  | (±5) 36cm |
| Length of diaper center area  | (±5) 30cm |
| Absorption amount | (±10) 250mm |
Doctors and experts recommend choosing BEKOKA diaper products due to these features:
The top front is designed to be suitable for the umbilical cord area and keep it safe.

It is Super absorbing as it contains ultra-absorbing polymer (SAP) mixed with pure cellulose pulp.

It has flexible back wings that allow babies to move freely.

Side tapes (Velcro Look-hoop tape) can be opened and resealed several times. 

The inner surface consists of soft-textured natural materials and is absorbent to liquids in large quantities.

The exterior allows air to enter inside the diaper.

Strengthening side barriers prevent leakage.
BEKOKA super soft newborn diapers for your baby's happiness.